FP02
From Openbike
Folding Python 02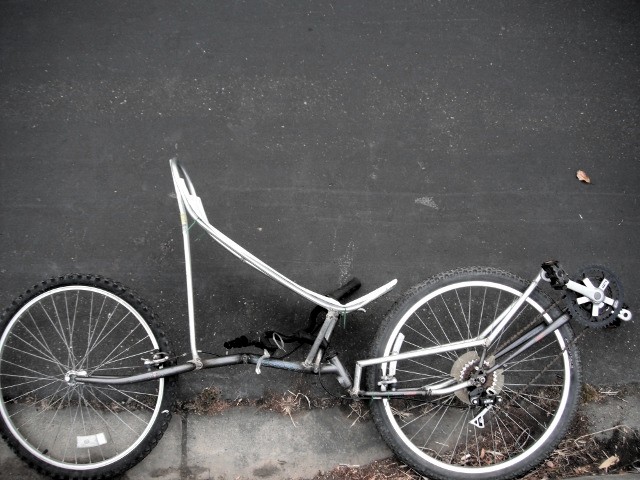 Concept
Using large 26" front wheel for ride compliant
Folding python theme continues, must fit inside small car (hatchback)
Design
Frame designed (scripted) in OpenSCAD (animation)
Seat & BB must be high enough to accommodate 60mm BB-EOS, which is shorter than usual due to the longer 170mm crank.
Build
Using one donor bike and some 1/2 in tubings for chain stay reinforcement was enough
First attempt ended up with severe wheel flop (pivot too low) and seat being too high & too close to BB (overdone)
Design revision in OpenSCAD was very helpful for second build attempt (animation)
Donor handlebar was reused (temporarily) for mounting shifter and brake.
Test
After moving the pivot up, the bike became pushable / ride-able.
The high seat height is not much of a compromise at all, as the bike can be started / stopped without aid of sticks. The longer crank is not too noticeable as the seat is as high as BB.
Using handlebar was somewhat intuitive / distracting, so it kept loosen for arm resting...
Folding is as designed but removing/installing the wheels is not as fast. The wheelbase is a bit longer than design (didn't want to waste some good cromoly tube), so the frame barely squeezes though the hatch.
Training
Starting/ride hands-free is among the easiest... (see riding videos)
Climbing is a breeze with the extra wheelbase inches and low MTB gearing, (see first hill test).
Links
Vi, Futon Express, Bango, Flintstones, μPython, Mini Python, Guinea Pig, Bipolar, FP02, FS24P