Bango
Jump to navigation
Jump to search
Concept
A simple FWD quadricycle made out of two coupled python bikes, for moving people / cargo like a minivan. Got the idea from Jürgen & his wife riding P3 & P1 side by side, plus more during the build process...
Design
Thought about how FWD torque steer would cancel out in a dual python configuration if we force the pedals 180 out of phase somehow. Didn't think much about steering geometry such as king pin inclination, ackerman, and caster angle before the build.
Build
The main frame came from a recycled Ikea BEDDINGE sofa bed from Craigslist. Also from Ikea is a recycled MURMEL bed canopy, we got for the kids when they were younger. Got very great comments from Ikea Hackers
Two 16-inch python drives, pivot angles ~ 45, not quite identical, one arch frame (short), one straight chain stay (long)
"Social steering" coined by DirkS - after our first test ride decided to skip the steering linkage all together to rely on good old communication.
Two more wheels have been added 50cm forward of the original quick release wheels to reduce frame flexing / increase capacity... (YouTube video)
Test
We also noticed that as we try to ride smoothly, we tend to pedal out of phase. After more observations, we can confirm that we do subconsciously pedal out of phase after sometime. Are we controlling the machine or vice versa? See videos [1], [2]
The bed frame initially flexed quite a bit, like a leaf spring suspension. We moved the rear tires forward by 50cm to reduce the flexing, and may re-enforce the frame with side rails later, which should also be useful for containing the cargo.
The canopy does a decent job of shading and giving the vehicle a shape. It still needs proper posts to mount on.
Without the linkage, we found that the vehicle can be turned mostly by the outer wheel. The inner wheel only requires a smaller angle to minimize tire scrub, versus a larger angle suggested by the Ackerman geometry. This behavior may be explained by the pivot rise effect counteracting to the weight shifting outward (outer pivot needs to be higher).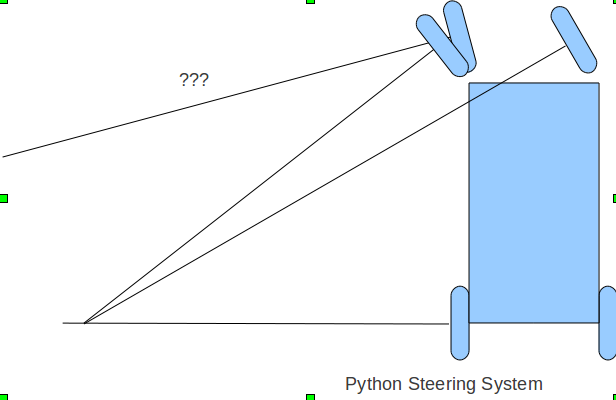 Training
Steering is both challenging and rewarding, for good teamwork. We need to agree on the direction :), and compromise the angles to minimize tire scrub. Surprisingly it only takes a few turns to learn
Links
Vi, Futon Express, Bango, Flintstones, μPython, Mini Python, Guinea Pig, Bipolar, FP02, FS24P