Mathieu
From Openbike
Mathieu's Python
Introduction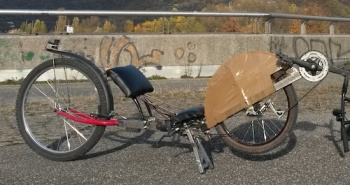 This project started in December 2015. I had been thinking about building a recumbent bike for many years. I was looking for a low racer bike, that I could build with a limited budget and limited knowledge. When I discovered the Python project, I immediately knew I would build it.
It took me several months to think about the construction, collect 4 bikes from friends, buy some tubes and borrow a welding unit from a friend. The construction started on the 25th May 2016. I had no knowledge about bike construction and I had never welded before. The bike construction strictly followed the instructions given on the Python website. There are only few differences, like the wheels size. I found the instructions given on the Python website very detailed and helpful.
On the 26th June 2016, the bike made its first roll-out.
I had never used a Python, nor any recumbent cycle before, so the learning was quite hard at the beginning. However, the explanations on the Wiki were more than helpful to get tips and keep motivation. After 5 months of limited practice and about 100 km or ride, I feel very comfortable on the Python, and there is nothing on earth comparable with riding it ! I use it mainly for recreational purposes on week-ends, and I really enjoy this bike.
Construction
The construction details can be found on my public facebook album.
Some construction details
Seat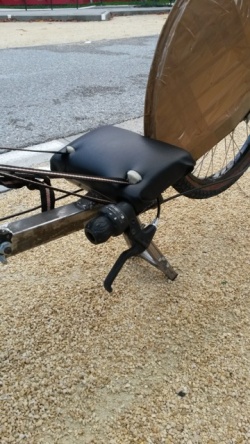 The first rides were made with the seat built according to Jürgen's instruction, but with the bare wooden plates. It was good for a start, but not comfortable for long rides.
I covered the seat with artificial leather filled with cushion foam. It is quite comfortable, and it is ok as I had never used the bike in rainy conditions. I suppose it would not support water for a long time.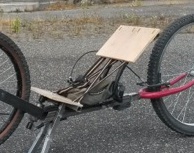 I noticed that the seat was not so comfortable after 10 km of continuous ride. In the future, I would like to upgrade it with an ergonomic seat that fits closer to my body.