FS24P
From Openbike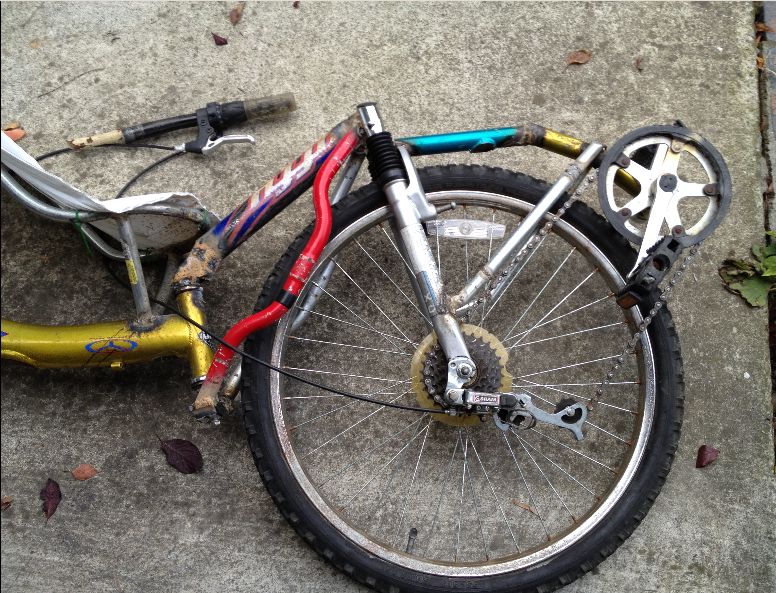 Concept
Front suspension python for absorbing road bump, and reducing disturbance to steering (by foot).
Design
Mountain bike front shocks are used basis of the front suspension. The chainstay is welded to the bottom of the shocks, while the pivot below the seat is connected to the top of the shocks.
Build
The larger wheel turned out to be more difficult to deal with then the suspension. The seat ended up quite high to reduce BB-Seat Diff. and BB-EOS to accommodate shorter inseam, making the bike closer to a mid racer than a low racer. For the shock clearance, the legs have to spread a little bit thus reducing pedal reach. Very short cranks (140mm) was used, plus bringing the BB closer eventually...
Testing
The original build (video), got modified after several months of testing.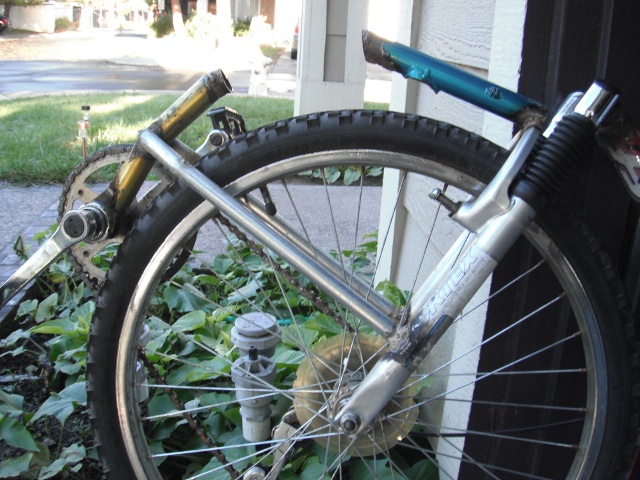 BB-EOS length is shorted ~3in (4in tubing), to reduce pedal reach and to increase the knee clearance of the shock posts. Legs are more comfortable now. Reaching the pedal too far can put strain on the legs, despite having smaller wheelsize (24") than the FP02 (26") (video) Compared to the FP02, seat height is 20cm less, but at 36cm, it still high relative to the survey. We'll see how it fairs in comfort vs. the FP02 over the next few months...
The pivot joint is reinforced, after it broke during testing, It's still the weakest point of the bike. Perhaps another round of reinforcement is in order... The video also includes some build details, the idler, fork modification for sprocket clearance, front frame, and rear frame...
Links
Vi, Futon Express, Bango, Flintstones, μPython, Mini Python, Guinea Pig, Bipolar, FP02, FS24P